Film Festival Today covers news and topics related to the film industry worldwide. There is timely coverage of film festivals as well as film reviews, industry-related news and coverage of the latest awards and acknowledgments in the industry.
The good people protecting the mighty Hudson River and educating the public about its history needed a new design for their website that would allow them to more easily update it with news items, upcoming events and educational resources that are at the core of their organization. The site includes an events calendar, photo galleries, membership sign-up forms, and sail scheduling and info for their flagship – the beautiful sloop Clearwater.
The LIFE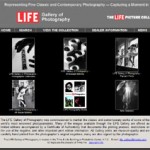 Gallery of Photography
A full-featured, database-driven gallery website devoted to servicing dealers and galleries selling limited edition and vintage photographs from the famous LIFE collections, featuring prints from such great journalistic photographers as Alfred Eisenstaedt, Margaret Bourke-White, John Dominis, Ed Clark and others.
This site was developed to support a new book on the Civil War, written by Dennis and Peter Gaffney. Quoting from the site: "This volume in the Seven-Day Scholar series brings to life significant moments in our nation's heroic tragedy, the Civil War, and coincides with its 150th anniversary. The book is organized into fifty-two chapters, corresponding to the weeks in a year; and each week has a theme – what ignited the war, Antietam, soldiers' food and drink, the 54th Massachusetts, the Gettysburg Address, Vicksburg, medical care, Lincoln's assassination, why the North won, and many more."
Selected list of other client sites: